Description
Enterprise IP PBX Appliance
SmartNode™ Branch eXchange (SNBX)
Features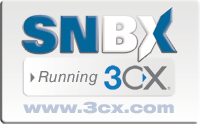 Plug and Play—Comes with 3CX Phone System and Windows 7 already installed.
Up to 64 SIP Calls with Transcoding—Comes with any 3CX edition up to 64 simultaneous calls and supports up to 500 extensions.
Monitoring and Management—Web GUI for device monitoring and application management. Also includes built-in SmartNode Gateway configurator.
Fits Your Network

BYOP (Bring your own phone)—Choose your own IP phones or softphones; no vendor lock-in.
Keep Your Existing Equipment—Add a SmartNode Gateway to connect existing analog/ISDN equipment.
SIP Trunks or PSTN—Save on monthly call costs using SIP Trunks or receive and make calls via the standard PSTN using SmartNode Gateways and VoIP Routers.
Overview
The SNBX is a plug-and-play appliance loaded with Microsoft Windows 7 and 3CX Phone System, an award-winning software-based IP PBX for Microsoft Windows. Capable of supporting up to 64 calls, the SNBX can support any 3CX edition supporting 4, 8, 16, 32 and 64 simultaneous calls with RTP Relay and Transcoding. (The 3CX Phone System license must be purchased separately.)In addition to running 3CX Phone System, the SNBX web GUI provides device monitoring and application management; plus, is open to 3rd party applications. No keyboard or mouse is required since the web GUI can be accessed from anywhere.The SNBX fits your network by supporting most IP phones and softphones. You can keep your trusted PSTN lines or analog/ISDN phone equipment by simply adding Patton's SmartNode Gateways. Or you can provide secure, prioritized VoIP by using a SmartNode VoIP Router to connect to your SIP trunks. Setup is quick and easy as the SNBX provides a built-in SmartNode configuration tool.
3CX Phone System
Break free from expensive proprietary phone systems and move up to an open standard IP PBX that increases employee productivity and costs much less.Evolve your communications by enabling employee mobility. Calls can be made and answered seamlessly from outside the office, and voicemail and faxes received via email.Globalize your business by connecting branch offices and re-directing local customer service numbers via the internet to your phone system at negligible cost. 3CX Phone System is made to scale with your business and save you money on consultants' fees. Supported plug-and-play IP phones are simple to add with the administrator interface, and supported Patton hardware has configuration templates built right in. Overcome the limitations of hardware-based PBX systems, reduce costs significantly and add advanced communication features that will make your company more efficient and competitive.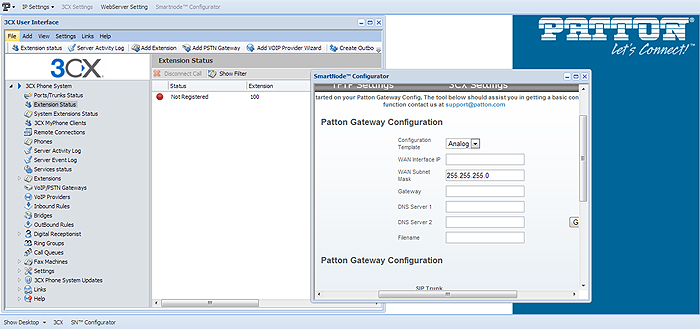 Applications


Specifications
Hardware Specifications
Processor
Intel Dual Core Atom with Hyper Threading 1.8 Ghz
Memory
4GB of DDR3 RAM • 250GB hard drive
Ethernet
1 10/100/1000 Ethernet Port
Operating System
Windows 7
3CX Phone System
Version 11
Dimensions
1.4 x 7.5 x 7.7 in.
Weight
2.8 lbs. (1.27 kg)
External Power Supply
12 Volt 5 Amp
Capacity
64 calls with Transcoding • 128 calls with RTP Relay • 20 cps • 100 CAPS
3CX Phone System Features
General Phone System Features
Call Logging, Call Reporting • Blind Call Transfer, Attended Call Transfer • Call Forward on Busy or No Answer • Call Routing (DID)/Caller ID • Conference Calling • Auto Attendant/Digital Receptionist • VoiceMail/Music on Hold • Ring Groups & Hung Groups • Central Phonebook • Call Parking and Pickup • Call Queuing • Call Recording • Dial by Name • MWI—Message Waiting Indicator • BLF Status Updates • Conference Rooms • Intercom • Paging
Softphones
Supports Windows, Android 1.6 and iPhone 4.0 and Up • Manage Softphone from Management Console • Includes Tunnel to Avoid NAT Problems • Auto-Provisioning • Remote Configure
SIP Standards Support
Fully Supports RFC 3261 • SIP Forking • Establish SIP Trunks with other SIP Servers
Management and Scalability
Web-Based Management Console • Configuration Wizard • Real Time Web-based System Status • Integrated Web Server • Automated Backup and Restore • Firewall/NAT Friendly Configuration of External Extensions via Tunnel • MS Windows Server Certified • Integrated Enterprise Database (PostgreSQL) • VM Ware/Hyper V
Unified Communications & Mobility
3CX MyPhone Self-Service User Portal • Receive VoiceMail via Email • Make Video Calls • Advanced Forwarding Rules Based on Caller ID, Time and Type of Call • Integrate Branch Offices with 3CX Bridges • Standards-based Presence Information • Integrated Fax Server • Receive Faxes via Email as PDF
IP Phone Management
Automatic Phone Provisioning • Remotely manage IP phones • Manage IP Phones Network-Wide • Plug and Play Support • Provision Network-Wide with Correct Settings • Restart one or all Phones Remotely • Manage Firmware Network-Wide • Update Firmware Network-Wide
3CX MyPhone
Web-based Utility • Transfer Calls • Shows Incoming Calls • Shows Caller ID • Shows Personal Call History • Divert Calls to VoiceMail v Queue Monitoring • Shows Status of Other Extensions • Run as Presence Monitor with Desk Phone
3rd Party Applications Integration
Microsoft Outlook Integration • Sales force Integration • HTTP API to Integrate with any Web CRM • Microsoft Exchange 2007 / 2010 UM
Devices and Providers
Supports Popular IP Phones • Supports VOIP Gateways & cards • Make and Receive Skype Calls • Supports Popular SIP/VoIP Providers • SIP Trunking Support • Free Communication Link to 3CX and other SIP Servers
Codecs (Voice Compression)
G711 (A-law and μ-law), GSM, Speex, llbc • G722 • G729